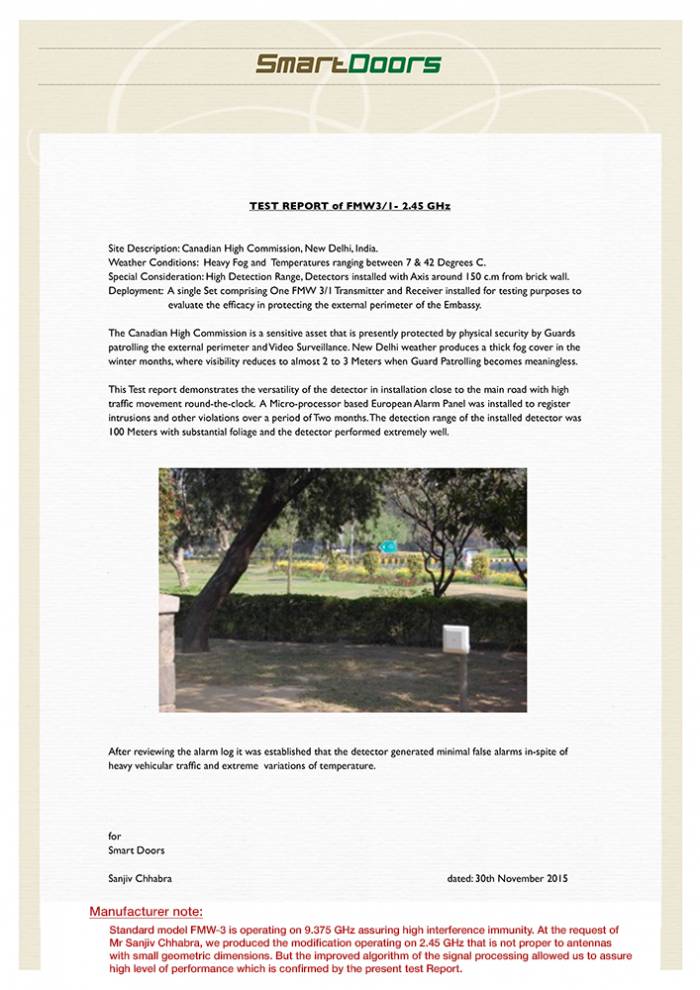 Site Description: Canadian High Comission, New Delhi, India.
Weather Conditions: Heavy Fog and Temperatures ranging between 7 & 42 Degrees C.
Special Consideration: Hight Detection Range, Detectors installed with Axis around 150 cm from brick wall.
Deployment: A single Set comprising One FMW-100 Transmitter and Receiver installed for testing purposes to evalute the efficacy in protecting the external perimeter of the Embassy.
The Canadian High Commission is a sensitive asset that is presently protected by physical security by Guards patrolling the external perimeter and Video Surveillance. New Delhi weather produces a thick fog cover in the winter months, where visibility reduces to almost 2 to 3 Meters when Guard Patrolling becomes meaningless.
This Test report demonstrates the versatility of the detector in installation close to the main road with high traffic movement round-the-clock. A Micro-processor based European Alarm Panel was installed to register intrusions and other violations over a period of Two months. The detection range of the installed detector was 100 Meters with substantial foliage and the detector performed extremely well.
After reviewing the alarm log it was established that the detector generated minimal false alarms in-spite of heavy vehicular traffic and extreme variations of temperature.
Smart Doors
Sanjiv Chhabra
Manufacturer note:
Standard model FMW-100 is operating on 9.375 GHz assuring high interference immunity. At the request of Mr Sanjiv Chhabra, we produced the modification operating on 2.45 GHz that is not proper to antennas with small geometric dimensions. But the improved algorithm of the signal processing allowed us to assure high level of performance which is confirmed by the present test Report.